Five Tips in Hiring for SMEs
How to hire the right people to create the perfect team for your company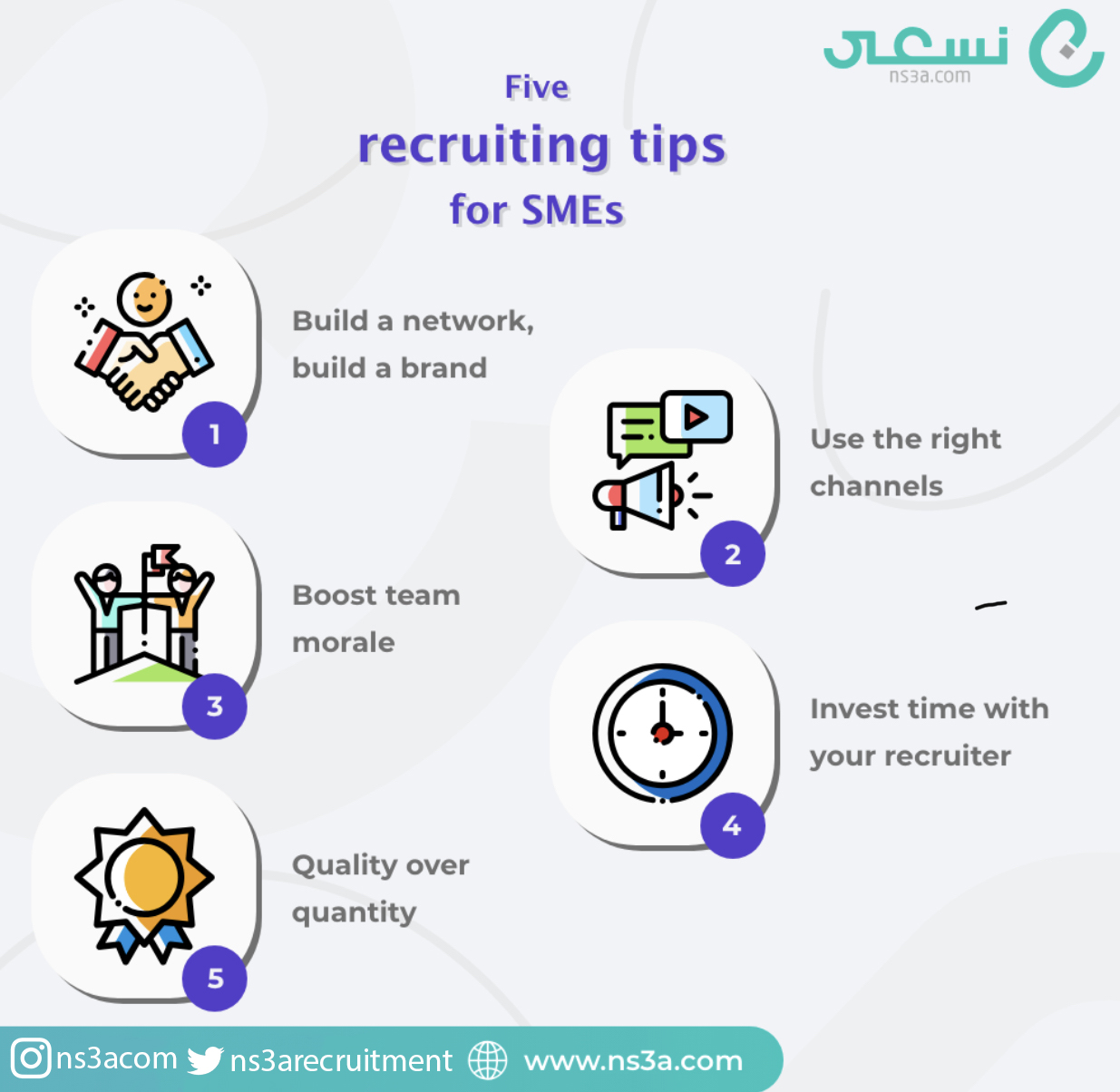 Build a Network, Build a Brand
Smart SMEs get the best candidates knocking on their door. Building your employer brand is the key to becoming a magnet for talent.
This means communicating intelligently, about the right topics with the right people.
By focusing on building a list of influential contacts in your sector, and earning their respect, you can build a team of advocates whose recommendations will steer talented individuals to you.
Organised networking events are a start, but it can be hard to identify the key influencers in a room full of people. Try chatting to the event's organisers beforehand.
This action alone may trigger far more valuable introductions than you would have achieved working the room from cold. Remember to use these opportunities to share your ideas and ambitions for the firm.
Enthusiasm is infectious and by sharing yours you will naturally attract others who share the same spirit. Attending a networking event is a significant commitment, so be sure to make the most out of the time you have invested.
Use the Right Channels
Networking will always create opportunities but rarely is it clear when these will materialise. So, if you're looking to recruit immediately it's important to use other channels.
If you don't have one already, add a 'working with us' page to your website and use it to tell the story of your business as well as to carry vacancy information.
What makes your business different? What motivates you and your team to come in each day? You can then share the page on Twitter and LinkedIn, helping to build your online presence and create conversations about your brand.
Boost Team Morale
Using social media and having an impressive website won't change your company culture. If your current staff are unhappy, you need to ask why. And quickly. Detractors can up-end all your good work and SME employees in particular feel the pressure of a people shortage. Make sure you let them know about the steps you are taking to address the issues.
That's the basics. But if you can find ways to include your staff in the recruitment process you can use it as a vehicle to boost team morale and increase their value to the business at the same time. Ask them for suggestions.
Which recruitment companies have they worked with in the past? Have they worked with anyone previously that would fit the role? Involving more senior staff members in interviews will also relieve some of the pressure on you.
Consider incentivising employees with a spot bonus for a successful candidate referral. And always re-emphasise that a successful new recruit will help to reduce everyone's workload.
Invest Time with your Candidate
Time-poor business owners don't always make time to build a relationship with their recruitment partner.
This is a mistake. How can anyone match your vacancies with strong candidates if they don't first understand the specific requirements of the role, or the culture of your firm?
Before jumping in with a recruitment agency, make sure you meet them first, you like them (yes, this is important) and, crucially, that your values are aligned. Once you've chosen a recruiter it's important to communicate regularly. They will contact you, but you must also take their calls!
If you only talk to your recruiter when you have an urgent role to fill, then you're missing a trick.
The best candidates may seek a change of scene at a different time.
And if they're available, trust me, you'll want to know. Even if you can't offer a role straight away, making the connection is an investment in the future.
Quality over Quantity
Keeping control of your communication with the market for future employees is important, so focus on nurturing relationships with just one or two recruiters.
Some SMEs work with a high number of recruiters, which is fine, if they all deliver.
But a recruiter that feeds you inappropriate candidates can be a colossal waste of time. If they don't respond to your feedback, don't be afraid to bid them farewell and take your business elsewhere.